North-Central AZ Trip [2020]
A 5 day, 250 mile solo trip from Bagdad to Apache Maid Mountain.
This adventure takes me across northern and central Arizona and some of its best features. Sticking to mostly high elevation areas, this route is ideal for summertime and crosses the Prescott, Kaibab, and Coconino National Forests, as well as the mighty Verde Valley. There is no shortage of places to explore along the way — as the drive passes abandoned mines, historic homesteads, and other structures. While predominantly easy-going and with a few pavement sections, there are a few spots that will require 4-wheel drive and high-clearance.
A couple miles outside the mining town of Bagdad, I got to work on airing down the tires. This was a quick process that only took a few minutes. While I waited, I enjoyed the view which included some grass covered mesas and rocky outcrops up ahead. When the tires were down to about 15 PSI, I was ready to set out. I would be on completely unknown roads as I traversed Camp Wood Road.
The trail stayed flat and smooth at first. The rolling grasslands soon gave way to rocky hills. It didn't take long and the trail soon began a steady climb. On the other side of the hill, things leveled out briefly and the view instantly improved. This was my first good look at the Santa Maria Mountains -- a range filled with boulders & hills, as well as plenty of green vegetation. The trail quickly dropped downhill into Wildhorse Basin and remained fast moving and in good shape. At the bottom of the hill, I crossed over the quite dry Boulder Creek, and resumed a long, steady climb.
For the next 6 miles, the trail would climb over 1300 feet along the edge of Behm Mesa. The road got narrower in places but was in good condition at first. Each mile further, the view got better and better. It was really incredible. Conditions deteriorated in a few spots and got rocky as the road clung to the side of the volcanic mesa. There were interesting road cuts on one side, and on the other, a healthy drop into the basin below. About 10 miles from Bagdad, the trail came to a split. To the left, Camp Wood Road continued on, which I would take later in the day. To the right was a spur road to the Black Pearl Mine. From this vantage point a little over a mile up in elevation, the Black Pearl was just visible to my east. I could already see some interesting structures from here, and I was anxious to get to get closer and check it out further.
I stayed right, and followed the road as it dropped along the edge of the mesa. It was less traveled than the other road but generally remained in pretty good shape. At the bottom of the hill I crossed back over Boulder Creek, which seemed to be a little more true to form here. On the other side, the trail climbed and remained narrow. It soon turned into a gloriously smooth dirt road. I came to an unexpected gate, but luckily it wasn't locked -- which was nice. Past here, the road soon deteriorated and was washed out in places. The trail split again at a scenic area known as Bear Flat and I was now just a mile away from the Black Pearl. From past research, I knew this trail was in rough shape and I didn't feel like doing any serious damage. It didn't look bad at first, but it would get rougher. I parked the Jeep and put on my hiking boots. I grabbed a camera & my lunch and set out. On paper, the hike seemed easy -- 1 mile to the mine, 500 foot elevation gain, not too bad. I continued uphill towards the mine and conditions quickly got rougher. Boulders, washouts, and off-camber areas made up the surface. You'll need a pretty capable vehicle to complete the trail. It was nice to get a little exercise and within about half an hour, I crested the hill and arrived at the impressive mine ruins.
Perched near the top of Loco Gulch, was the Black Pearl Mine, a former tungsten, molybdenite, and iron producer. The expansive tailings pile was dominated by primarily white rocks with a few areas of yellow and red. Numerous structures remained around the property. I grabbed a quick bite to eat before getting onto exploring the ruins.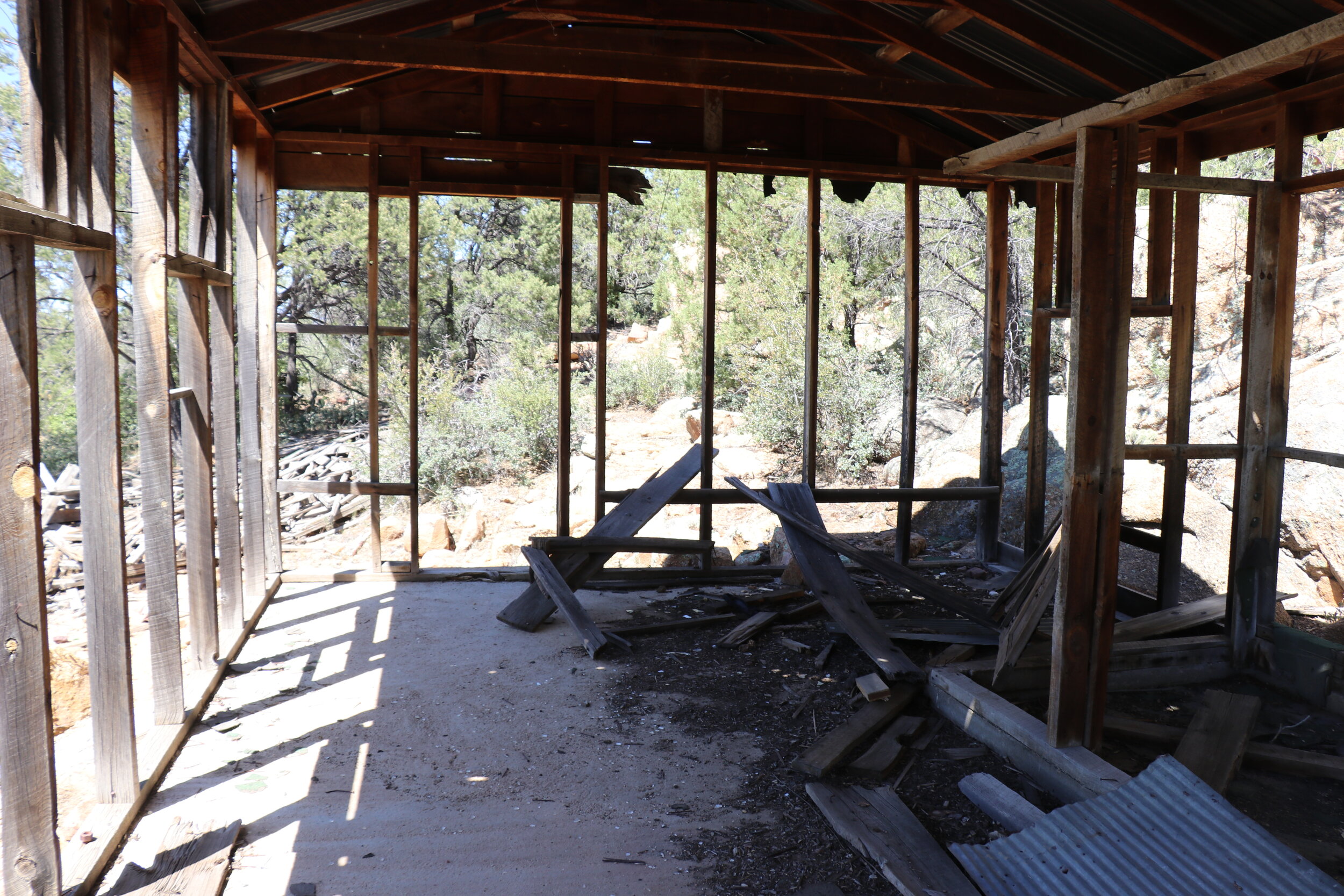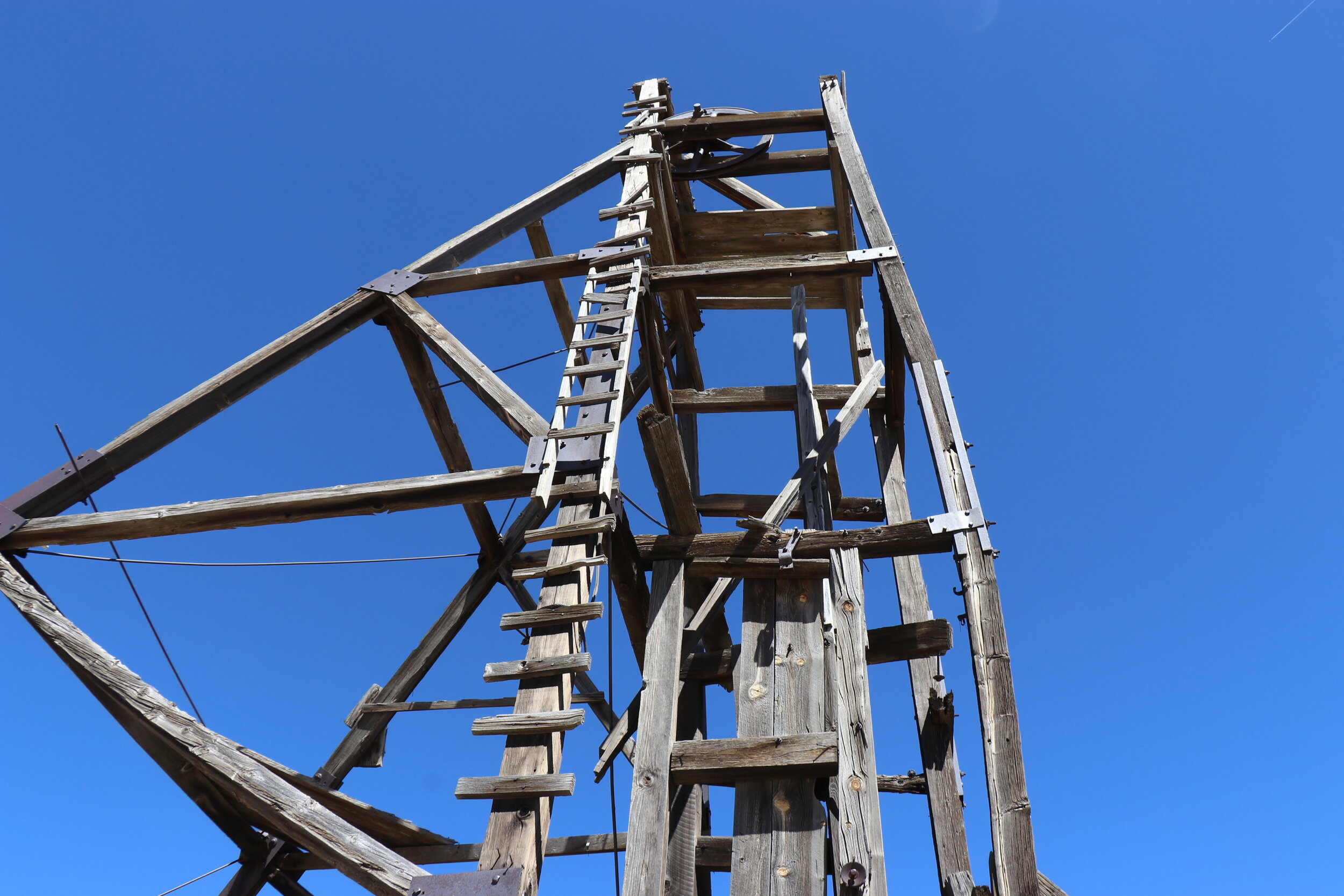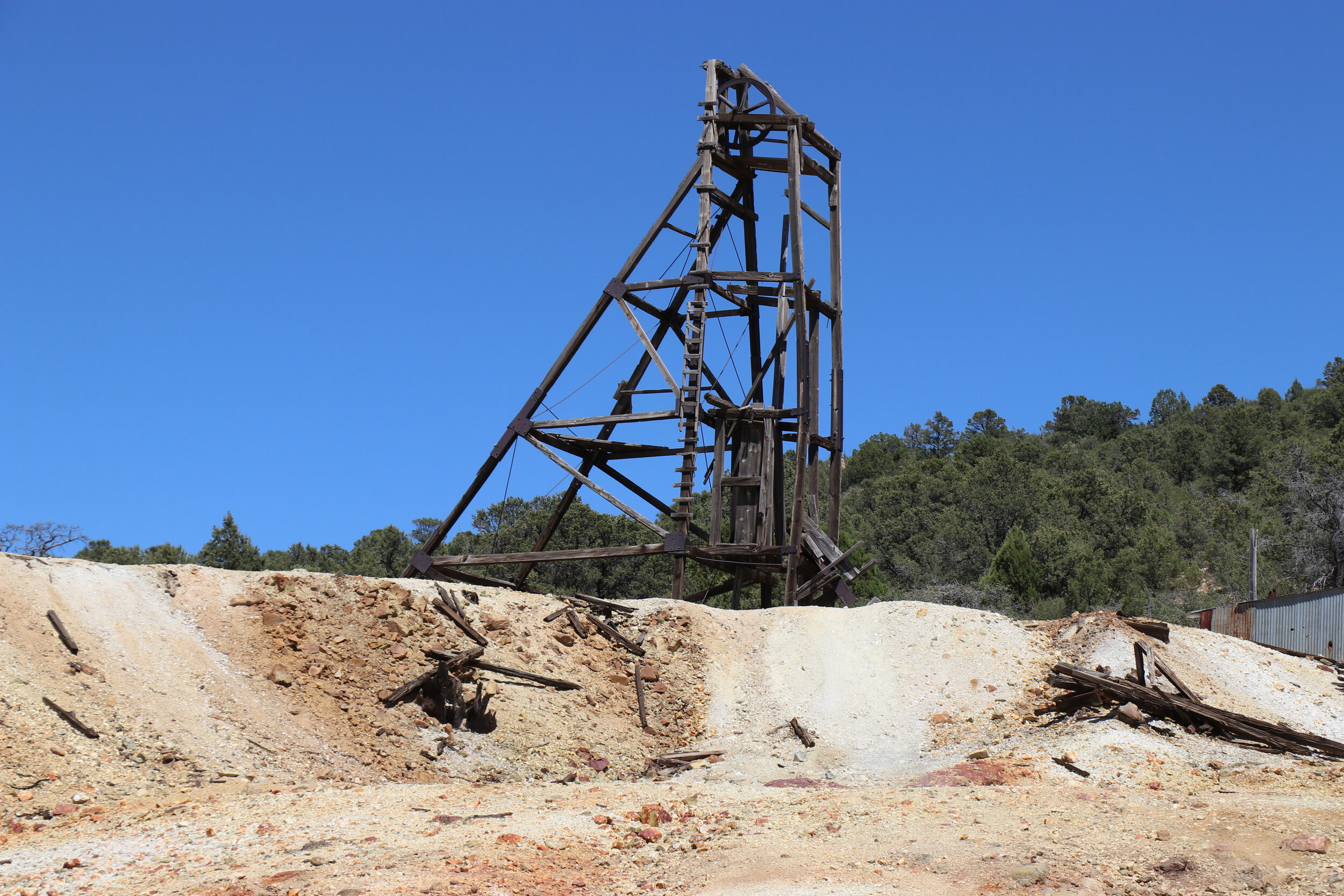 The Black Pearl was first discovered in 1914 by William Conners. Just a year later it began producing high-grade tungsten ore. From 1915 to 1935, it would produce over 60,000 pounds. Mining methods during this time were crude. All of the work was near the surface and done via a mix of drilling drifts and hand sorting the ore. Nevertheless, it was successful. Interestingly, the mine didn't have any big backers or capital poured into it. It's profits were enough to sustain operations up to this point. In the years following, the mine slipped out of operation as ownership disputes raged on. Shares were sold and the mine ended up in a 50-50 split with each side disagreeing on how to operate going forward. Meanwhile, the promising mine drew the attention of local investors and companies. By 1951 the Pearl had resumed operations under new ownership. The mine was re-developed and expanded. In 1953 a road was built from Bagdad and modern equipment was installed. A small mill ran on site to process the ore, which was thought to be around 70,000 tons worth half a million dollars. However, it seemed like much of the high-grade ore had already been picked out, and the production numbers just weren't sufficient. By Fall of 1956 the mine closed again and the Hillside Mining Company turned its lease back over to private owners. While ownership has changed hands in more recent years, it seems the Black Pearl was not operated any further.
I spent a little over an hour walking around the abandoned structures. This included a few out buildings, some sort of blacksmith shop, and of course the main attraction: the large headframe. The headframe towers over the ruins of the Black Pearl. It seems like it's seen better days, but it's left relatively intact. The shaft below the headframe, as well as the main adit that goes into the mountain side were completely filled up with murky looking water. Other pieces of mining ruins were scattered around the large waste rock pile. The ground while mostly full of large chunks of rock, were scattered with tons of small shiny pieces of metal. Pyrite, or fool's gold, appears to be in no short supply. However, it was now after 3 P.M. I still had the mile hike back to the Jeep and the short stretch of road back out to Behm Mesa to cover to get back on my route. I left the Black Pearl and retraced my way downhill.
Once back to the Jeep, I was soon loaded up and ready to get back on the road. I proceeded the two miles back to the main road. The trail out was quick, mostly smooth, and fun to drive. I soon ended back up on the shelf road and made a hard right turn uphill to continue on. From here, the road climbed and was slower going. The surface here was undergoing some kind of maintenance, and a few sections were a little rockier. It didn't take long and the trail soon leveled out and crested the top of the mesa. Conditions were still rocky but quickly improved as I passed through a gate. From here, the vegetation thinned and gave way to open, grassy areas. I passed through another gate at what seemed to be a pretty active ranching operation. Past the ranch, the road twisted northeast. My pace was slowed through some more rocky sections, but for the most part, these open areas were smooth sailing. It was pretty remote out here and aside from meeting the local law enforcement, there had been no one else all day.
The road crossed into Prescott National Forest, and the pine trees began to make an appearance. I continued northbound. The road gently dipped into a green valley. Complete with a group of houses and even its own airstrip, I was now passing through an area known as Yolo Ranch. The road turned east and weaved through the trees. It was really scenic through this area as large boulders were just about everywhere amidst the pines. A few miles later, I arrived at another brief historic stop. Camp Wood sits just off County Road 68 and if you're wondering where it is -- well, there isn't anything left today. Located on the banks of Pine Creek, Camp Wood was a territorial-era cavalry post. Likely connected with Camp Hualapai further north, not much is known about what happened here. But it was a nice scenic spot.
I pressed on. My goal was to make camp somewhere in this area. Just a couple miles east along the road, I pulled off onto a lesser trail and quickly found a nice spot. It was just after 6 so there was still plenty of daylight left. After leveling the Jeep, I got to setting things up, which really didn't take long. When this was done, I grabbed my first beer of the trip, and sat down to enjoy the view. This was a rather interesting campsite. On one side were gorgeous hills and healthy forest. The other side was burned and otherwise dead. It turns out, I was camped right on the edge of the Sheridan Fire damage, which burned 20,000 acres of this area last summer. It was eerie but beautiful in its own way, and a great reminder of why I wouldn't be having any campfires this trip due to fire restrictions. The undergrowth is already starting to grow back, but it would take decades to return back to normal. The surrounding views were really gorgeous and the highest reaches of the Santa Maria's rose up in the distance. The flat topped Cottonwood Mountain sat just to the east.
A little before sunset, I fired up the stove to get started on dinner. Tonight it would be a chicken quesadilla. I started off by cooking my fresh flour tortilla. Annoyingly, it didn't quite fit in my pan. Next up it was chicken. I got that warmed and seasoned. Finally, I combined everything back in the pan for the final melting phase. It smelled fantastic and within minutes, was ready to go. Paired up with another beer, I sat down to scarf down this delicious meal. I watched the sun fade from the sky as the surrounding terrain slipped into darkness. Today had been a great day. I covered some new ground and with the hike earlier, was a tad more exhausted than usual. It didn't take long and I was soon up in the tent. I enjoyed the starry sky for a while, but by 9:30, I had fallen asleep. Tomorrow would be another busy day and I wanted to make sure I was ready for it.
It was just after six o'clock when I was up. The morning was cool and quiet as the light of the day slowly lit up camp. I lounged in the tent for a while and enjoyed the view. Last night I slept really well. It wasn't windy and aside from a little bit of traffic on the nearby road, all had been still. Around 7:30 I got started on breakfast. I had a lot of mileage planned so I didn't want to linger around camp for too long. After whipping up some quick oatmeal and coffee, it was soon off to breaking down camp. Shortly after 8:30, I was all loaded up and ready to get underway in the Jeep.
I returned to County Road 68 and proceeded east. It was about 15 miles before getting back to civilization for my next short segment. The road remained wide and smooth. Just a few minutes away from camp, I climbed to a high point and had to stop and check out the view. Looking east was the wide Williamson Valley, where I would end up in just a little bit. I also got my first view of the San Francisco Peaks far off on the horizon. Looking back toward camp the view of the Sheridan Fire damage was much more apparent.
Continuing east, the trail slowly but steadily dropped downhill. This section was especially scenic. I continued through the burned area for a while but it eventually gave way to green forest once again. The trail kept dropping and I passed a few crazy mountain bikers heading uphill. The great views kept up for a while, and the road stayed in great shape. Things slowly became more civilized as I left behind the Santa Maria Mountains and entered into Williamson Valley. The road got wider although more filled with washboards. Slowly but surely the forest thinned out and I found myself traversing a wide grassland. It was windy today -- with a red flag warning in place -- so things were gusty. I arrived at pavement and aired up the tires before proceeding. This would be the first of my two planned air-ups today. My next segment would be a 20 mile pavement connector to the other side of Chino Valley. Unfortunately, there were no dirt roads between here and there, but this would save some time. Despite being pavement, this area just north of Prescott was very scenic. After refilling the tank and topping off the cooler, I was soon back on the outskirts of town.
Now on Perkinsville Road, I headed east where things soon turned back to dirt. This road sees a lot of traffic, and as a result had a ton of washboards. To keep myself sane, I had to air down again. The road itself wasn't difficult, it's just the Jeep can get quite noisy on roads like this. Things were scenic with some great views of the Black Mountains & Woodchute Wilderness to the east. This was an area my cousin & I ventured a little further into back in 2015. I passed through grasslands and even saw some pronghorn cross the road. Pronghorns are fairly common throughout the west and they are frequently mistaken for antelopes.
Heading further east, the road remained flat for a while. Around the 13 mile mark, things got more interesting. Views of the San Francisco Peaks and the gorgeous red rocks of Sedona slowly came into view, and got better as I continued on. I crossed back into Prescott National Forest, and the road curved and climbed through Wildcat Draw. The road reached a highpoint with an expansive view of the Verde Valley. I had to stop for a minute and take it all in. From here, the trail curves sharply and drops into the bottom of the Verde Valley. The scenery was nothing short of spectacular. Things remained easy still as it twisted and turned. At the 19 mile mark, the road arrived at a remote stop sign. To the right was Jerome and Mingus Mountain, but I stayed left to get to the Verde River and the mostly abandoned town of Perkinsville. I passed a small ranching area and dropped towards a narrow bridge over the Verde.
I crossed the Verde River, which was still flowing. I stayed right past the bridge to get closer to the historic train depot the town is known for. But, after weaving through some trees along the banks of the river, I soon found myself at a locked gate with no trespassing signs. I headed deeper into the trees to see if there was another way around. Unfortunately, there wasn't. It turns out that all the buildings in Perkinsville -- abandoned or otherwise -- sit on private property. And the only way to see them was from higher up on the trail or along the railroad line. This railroad, known as the Arizona Central Railroad, runs from a cement plant in Drake to the town of Clarkdale. Originally completed in 1913 for $1.2 million, its purpose was to support the mines of Jerome. Perkinsville was established as a water stop along the line and supplied lime from its quarries to the smelter. Operations lasted until the 1950s when the smelters closed and the locomotives switched over to diesel. The town was never big but it was also used as a filming location for the 1960s film How the West was Won. Nowadays, the town is abandoned except for a few locals, and the only tourists allowed to arrive are on the Verde Canyon Railroad.
Still wanting to find a spot to look at the Verde, I relocated. On a warm summer day with temperatures in the low 90s, this was a pretty popular spot. I found a nice section and sat along the banks for a few minutes. The river here was flowing but quite muddy. The Verde flows southeast for 170 miles to its meeting with the Salt just outside of Phoenix. This spot also marked the lowest elevation of my entire trip at around 3800 feet. Unfortunately, the popularity meant that this spot was hardly quiet and serene. I grabbed a quick snack, and soon returned to the Jeep and got back on the trail north.
I crossed the railroad tracks and began the long climb out of the Verde Valley. It was about two o'clock, and I still had about 65 miles to get to my planned campsite for the night. For the next 9 miles, the trail headed north and west. It continued to curve and climb through some relatively scenic areas. This last section through Prescott National Forest featured some more open grasslands, and eventually gave way to thicker vegetation. The miles continued to tick by.
In the absolute middle of nowhere, the road turned to pavement once again. I decided to do a quick air up just in case. This paved connector was 16 miles long and would climb nearly 3000 vertical feet. It would take me up onto the Colorado Plateau for the remainder of my trip. While a few pavement miles would have been okay on aired down tires, the 16 miles seemed like it was a bit too much. And, I certainly didn't want another flat tire like last year's trip. Once this was done, I continued northbound. The road climbed and quickly crossed into Yavapai County and entered into Kaibab National Forest. With every mile forward, the temperature got slightly cooler, leaving behind the warmer Verde Valley.
I eventually turned off the pavement and headed east along Forest Road 110. I aired down again since the next 2 days would be exclusively on dirt. The road really wasn't much to write home about. It sees a ton of traffic and its gravel surface was typically fast moving. I cruised along quickly, trying to make good time to camp. Past Whitehorse Lake, which seemed packed, I continued north. Things remained easy although full of washboards. A few miles down the road, I came across a turnoff that was intriguing. I pulled into Sycamore Canyon Overlook and figured I had time for a quick stop.
After a short hike, I soon found myself at the rim of the canyon. While not very wide at this point, the view was impressive. Columns of rocks made up the steep walls, and the area was covered with a thick layer of trees. At the mouth of the canyon sat a large rock drop, known as Sycamore Falls. This 70 foot drop flows seasonally, but must be really impressive when it does.. It is also a popular rock climbing spot. While there was some water at the bottom, it seemed pretty dry otherwise. I enjoyed the view for a few minutes before returning back uphill to the Jeep.
I continued north for about 5 miles. The road remained uneventful and busy. I stayed right onto Forest Road 141 and the gravel turned to a reddish dirt. I proceeded eastbound and the trail soon opened up. This was Garland Prairie. With views of the San Francisco Peaks and some other surrounding mountains, it was really something. I don't know what it is, but something about open expanses like this get me really excited. I continued east through the prairie. At about equal latitude as the city of Flagstaff, this point marked the northernmost reach of my entire adventure. The area is relatively populated and is home to numerous ranches. I passed sheep, goats, and some other animals as I weaved through. What appeared to be several abandoned homesteads also dot the Prairie. A brief pavement section was followed by a return to dirt roads underneath a powerline. It was now almost 6 o'clock, and I still had over 25 miles to cover to get to camp.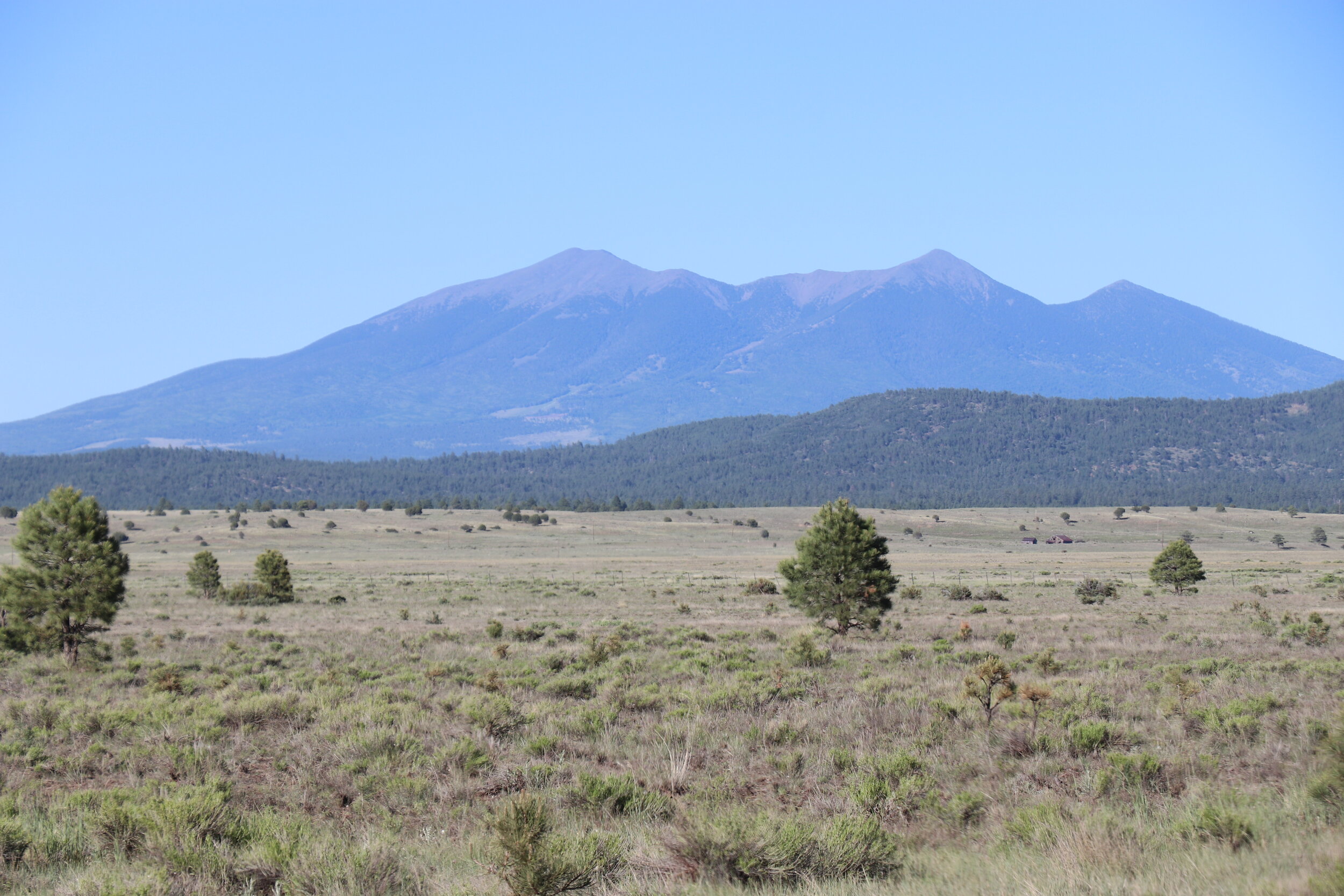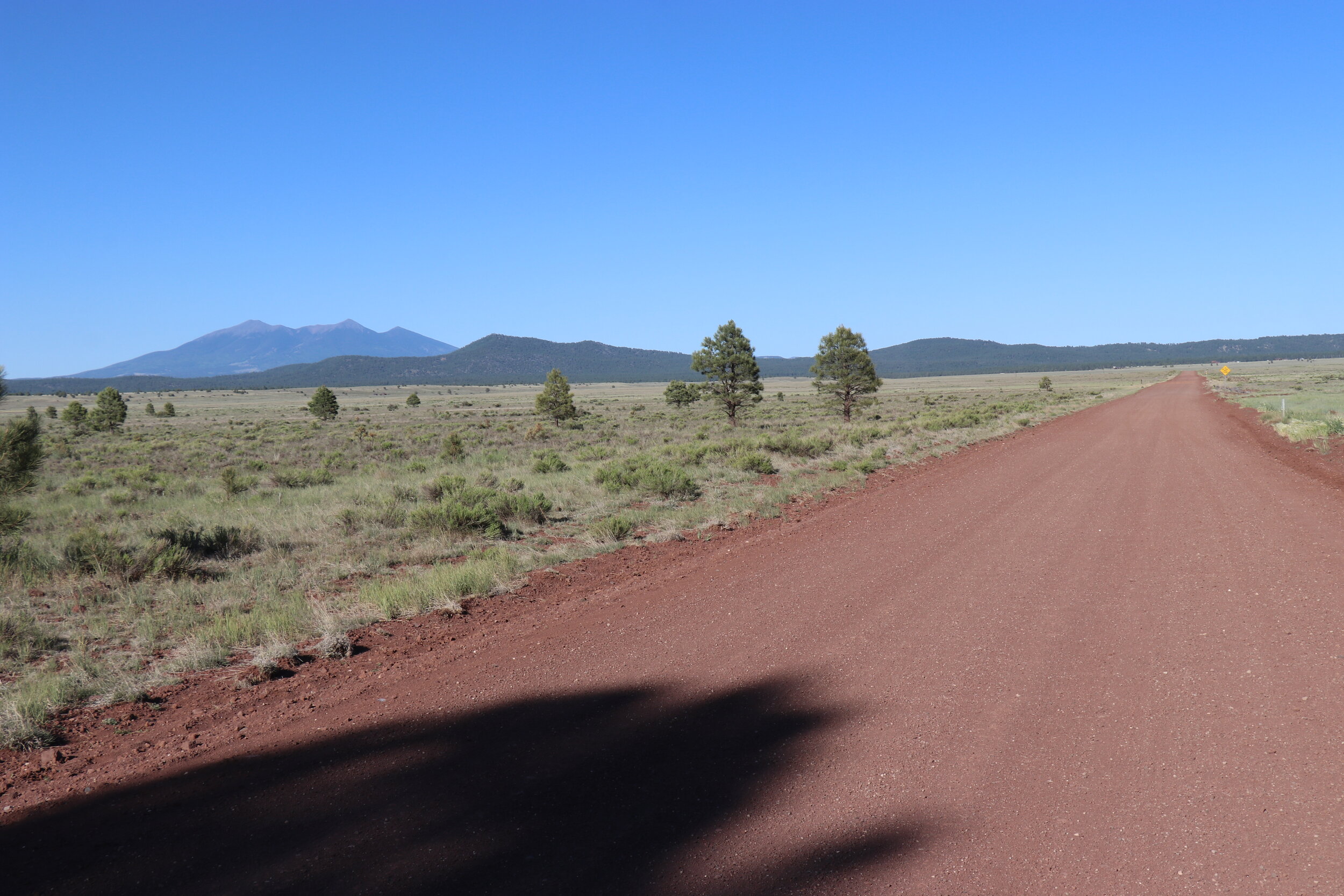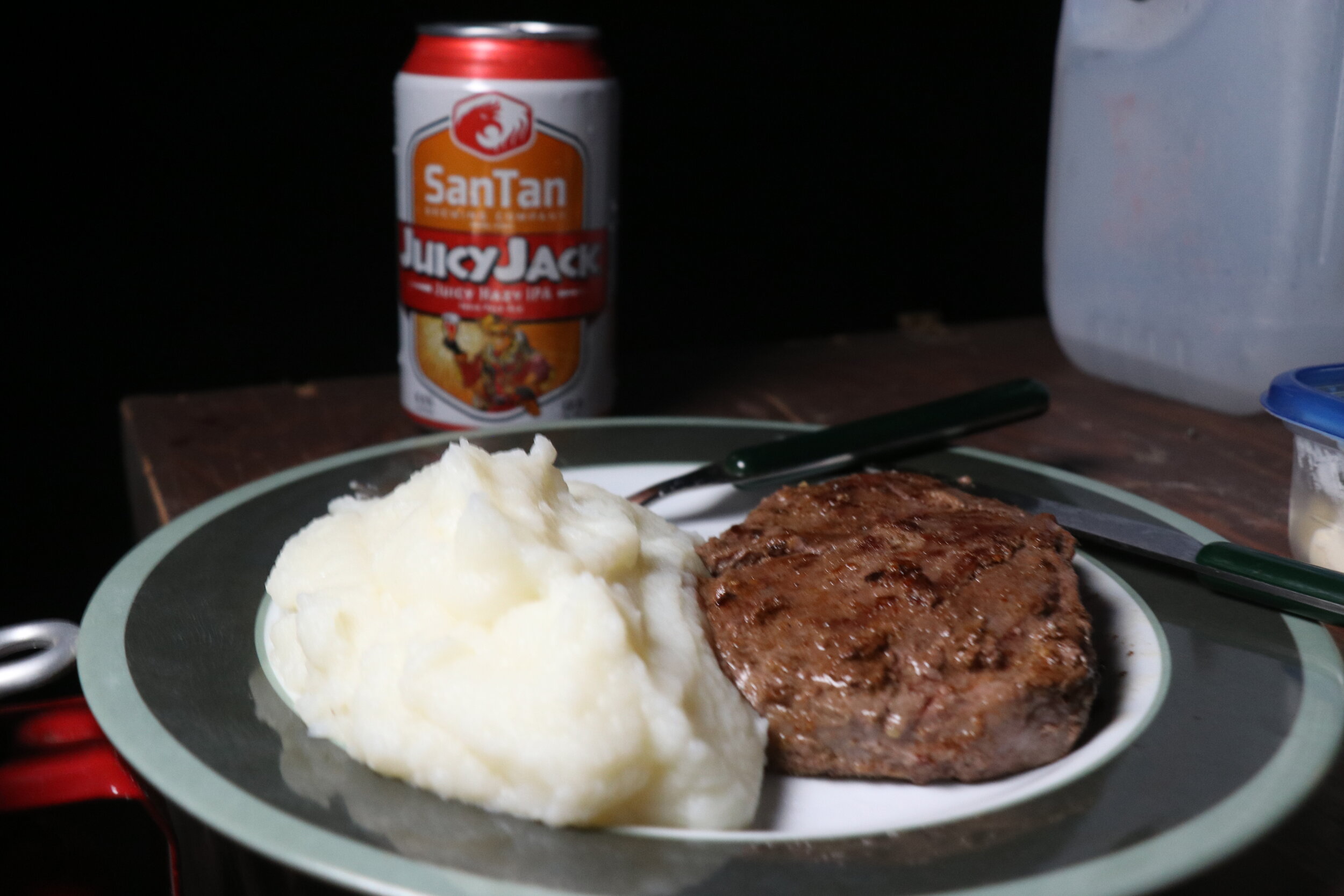 Leaving the populated area, the views opened up briefly, and the road condition soon changed. I was now in my third national forest of the trip, the Coconino. This section of trail had numerous tracks, and the surface appeared to be severely torn up. This certainly slowed me down. It wasn't difficult, it just took some time to navigate. I picked my way south on Forest Road 527. And this went on for some time. The road would smooth out briefly, and then enter another beaten up or rocky section. I meandered east as the lesser traveled road curved through the forest. It was scenic, green, and felt remote. A brief rocky area marked another section close to the rim of Sycamore Canyon.
Past the seven mile mark, things got progressively easier and faster. I traveled along Forest Road 538 and 14 miles from Garland Prairie, I arrived at a major junction. This was Forest Road 231. Now about 10 miles away from my intended campsite and with far easier road to navigate, I decided to take a gamble and try to make it before sunset. I followed 231 south and picked up the pace. This trail is surprisingly scenic and travels through a brief section of the West Fork of Oak Creek Canyon. The road soon fell into the shadows. With lots of curves and elevation changes, I thought I made good time heading south. As I approached the final section towards East Pocket, better known as 'The End of the World', I quickly came to the realization that I wasn't the only one that wanted to camp here.
As I headed east, campsite after campsite had already been claimed. The area has tons of dispersed camping spots that overlook Sedona and Secret Mountain Wilderness. But trail after trail, it seemed like I was too late. Which was kind of surprising since it was a tuesday evening in the middle of a pandemic. Regardless, the light was now fading fast and I continued east, trying to salvage a decent spot. I ended up on a fun side trail that got interesting. But there was nothing here. I turned around, and began the drive of shame back west. It was certainly a busy area with lots of traffic still moving in and out. Just before 8 o'clock, I pulled off on a side road in the area and found a suitable spot. It wasn't the big view I was hoping for, but located half a mile from the rim of the canyon, it was going to have to work.
I got camp set up in record time. Almost immediately, I began work on dinner. I figured something nice was in order to help lighten the mood. I fired up the stove and got the ribeye cooking. The fantastic smells permeated the air almost immediately. After a little while, I got some water boiling for the potatoes. Dinner came together rather quickly, and half an hour after getting to camp, I was ready to eat. It would be steak and potatoes, and for the vegetables, a nice side of hops. I sat down in the dark to eat. It was incredible. For desert, it would be a little bit of whisky. Which of course, was also very enjoyable. The evening ended up being really nice. I eventually got up into the tent around 9:30 and was off to bed by 10. After another busy day and covering 136 miles, it certainly didn't take long to drift asleep.
I was up right at sunrise. Outside, it was calm and quiet, aside from the occasional helicopter flying in the distance. From the thick trees, you would never know you're less than half a mile from the rim of Secret Canyon. I stayed up in the tent, and ended up dozing off for another couple hours. Which was perfectly okay because I wasn't in a big rush this morning. I eventually made it up and around, and by about 9:30 got started on breakfast. Today I figured I would break it up, and try my hand at some over easy eggs. This went surprisingly well, and after making something adjacent to toast, I was ready to eat. The eggs had turned out just right.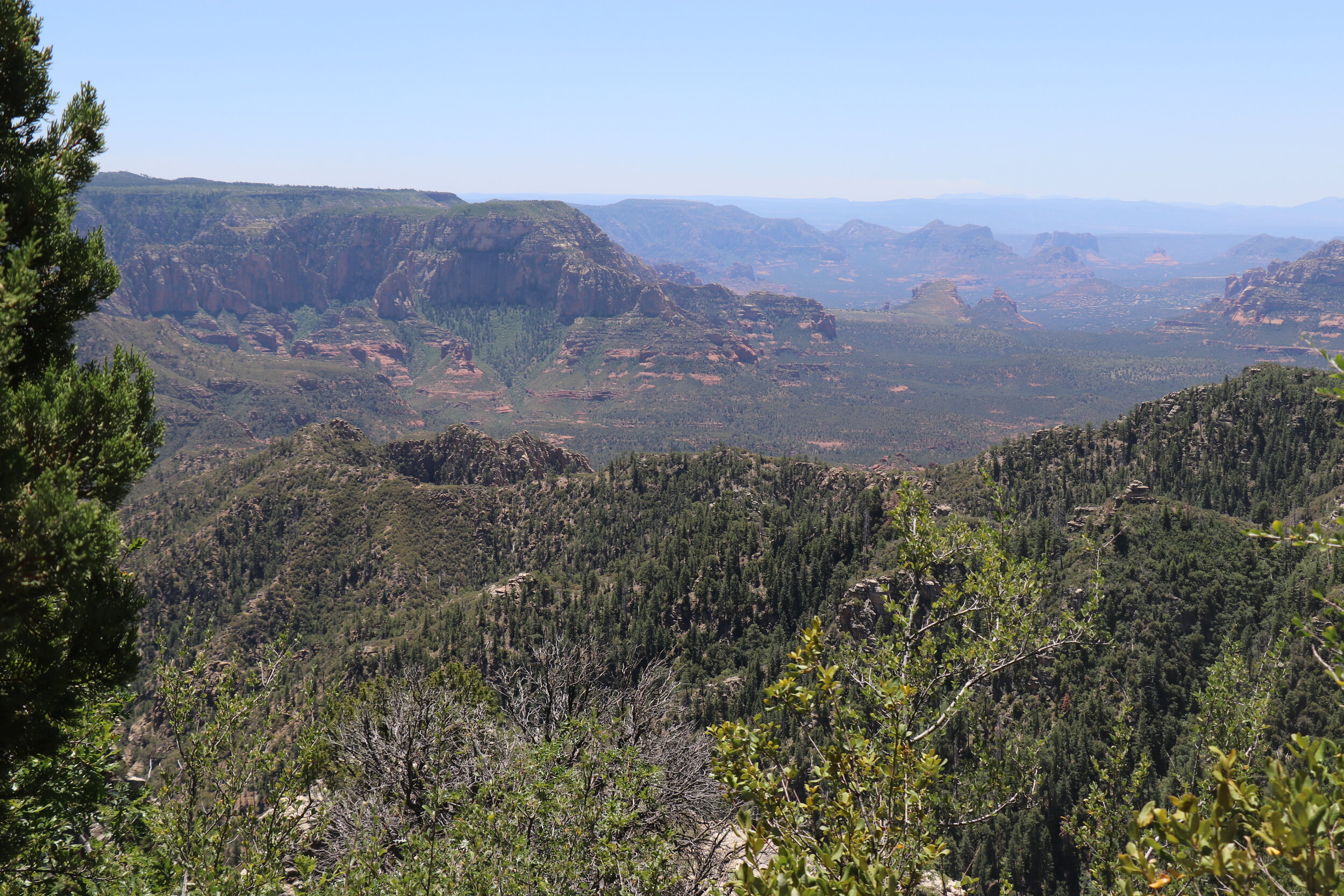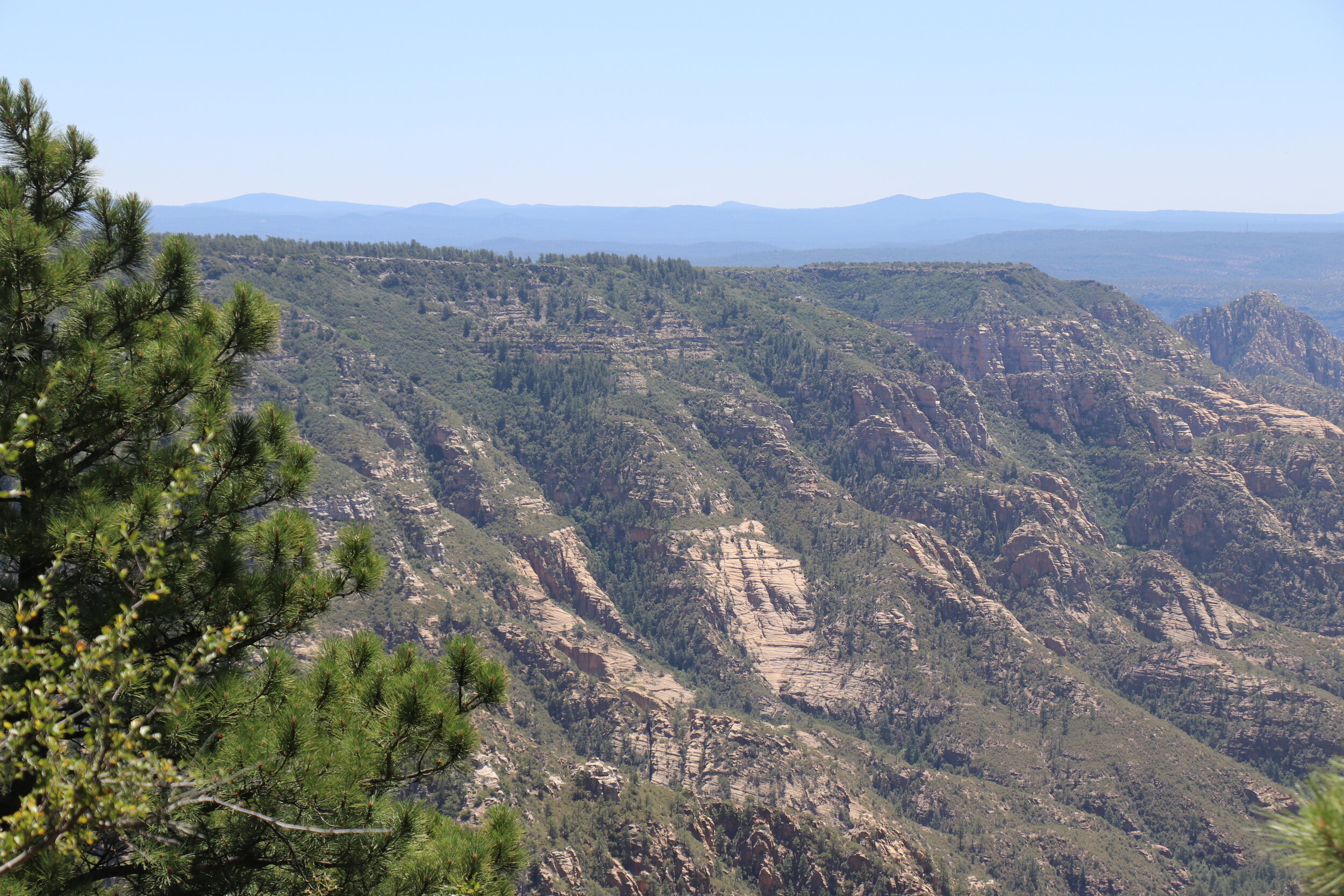 It was soon time for dishes and packing up. This spot turned out to be pretty decent. There was a lot of traffic on the main road, but for the most part the night had been calm with little to no wind to speak off. The views weren't terrible either. After chatting with a guy who passed by camp, who was curious about my tent and had also visited my website in the past, I got the tent packed away. It was just after 11 when I was finally ready to roll. Talk about a lazy morning.
I rolled out of camp and headed south. I figured since I was here, I had to check out the scenic view everyone comes here for. The trail meandered through some trees and particularly green vegetation. The forest cleared as I approached the rim and the 'End of the World' came into view. I parked the Jeep and got out to take it all in. The view was all it was cracked up to be. Below the rim, much of the area lies within the Red Rock / Secret Mountain Wilderness area. In the distance sat Sedona and many of its iconic red rock formations. I could see Bell Rock, Courthouse Rock, and Capitol Butte. This viewpoint sits at about 6900 feet in elevation, over 2,000 feet above Sedona. Far off on the horizon was Pine Mountain and Tule Mesa, over 40 miles away on the other side of the Verde Valley. I can certainly see why people flock to this area, it's downright breathtaking. I enjoyed the view for a while. It was a little bit gusty and there were still a few people camped out in the area. I decided to proceed back northbound.
I got back on Forest Road 231. Things remained smooth and easy. The road was busy with people continuing to stream in and out of the area. A few miles further along, I was stopped again. I crossed a place called Fernow Draw and had to check something out.
Up this road sits a Forest Service cabin. And it was one I've been too before. Way back in 2010, this cabin was the very first 'Rooms with a view' cabin I ever stayed at. Naturally, it holds a special place to me, and since I was so close, I had to check it out again. Located in a scenic draw, Fernow Cabin sits at the end of a quiet road. Although closed to the public at this time, I didn't expect to find any one here. To my surprise, a few Forest Employees were sitting on the porch. After chatting, they soon left, and invited me to sit on the porch and check the outside out. Fernow was originally used as a guard station for fire crews. The first cabin was built in the 1970s, but ironically burned in a forest fire. Rebuilt in 1979, the current cabin served the same purpose. It was built using logs on site and a mixture of salt, mud, and dirt was used to fill in the middle, much like the early pioneers would have done. However, after finding that the local cattle took a liking to this mixture, it was soon replaced with concrete. Fernow was opened to the public in the 90s and been reservable ever since. This is certainly a rustic structure located in the middle of nowhere. While it was locked up currently, some old pictures dug up 2010 will show you the small kitchen area, two bedrooms and loft area on the inside. It was really a trip down memory lane, and neat to see this old cabin.
I soon hiked back to the Jeep and got back on the road. I continued on my route, not sure what exactly the plan was. I wanted to cover a few miles, but keep the day slow-paced and relaxing. I followed 231 northbound as it dipped back into the West Fork of Oak Creek Canyon. The drive was incredibly scenic. Seven miles later, I arrived back at the junction from yesterday. I stayed right to head east on 536. The road remained fast moving and scenic.
After a couple of additional miles, I entered a nice area surrounded by open meadows and Fry Lake. This seemed like a great spot. It wasn't too busy, and there was enough in the nearby area to check out. It was just after 2 o'clock, but hey, today was meant to be slow paced and relaxing. So this was camp. I parked the Jeep and enjoyed a quick lunch. Afterwards, I set out for a short hike to explore the surrounding area. To the south was a small meadow. With tall grass and a few big trees in the middle, it was really nice. On the other side of camp was a much larger clearing. This area was part of Fry Park, and although not visible from the ground, contained a small area of water known as Fry Lake. The term lake might be an overstatement. But nonetheless, it was gorgeous. There were also views of Humphrey's Peak to the north.
I made it back to camp and soon got things set up. I popped open the tent and got the rest of my gear ready. It was nice not to be rushed. At this point, there were still 3 hours of daylight remaining, so I grabbed a beer and hopped up in the tent to do some reading. The downtime was a great change of pace. This campsite sits at 7400 feet, and with a cool breeze blowing through the pines, it was close to perfect.
By about 6:30, it was time to start on dinner. I once again fired up the old stove. Tonight's meal would be a little bit simpler, but, I was feeling inspired by my visit to Fernow earlier. Once the rice was warmed up, I threw in the kielbasa. And for a little bit of extra flavor, a little beer as well. Everything cooked up quick. Dinner was served, alongside the optional side of cheese whiz for the kielbasa. Might sound gross, but this was one of the snacks we had at Fernow 10 years ago. Something about that fake cheese taste combined with kielbasa grease that really brings back the memories. After dinner, the light began to fade. The thick trees surrounding camp quickly fell into darkness. It certainly would have been a great night for a fire, as the chilly air blew through. Before bed, I of course had to enjoy a little more whiskey. By about nine I had made it back up to the tent, and was off to bed sometime after.
Ten hours later, I was up the following morning. Things were once again calm. Last night I slept great. It was definitely the chilliest night of the trip, but I managed to stay bundled up. Shortly after getting up and around, I got some water boiling for breakfast. I let the coffee steep and mixed up the oatmeal. With breakfast done, I turned my attention to breaking down camp. I got the tent collapsed and packed up. After some dishes, the rest of camp was soon broken down. I made sure the area was all cleaned up, and hopped in the Jeep. Returning to Forest Road 536, I continued to the east. The road skirted around the scenic Fry Park. There were a few more great campsites, and this is certainly an area I'd like to return to. I was now headed for Highway 89A. Which I would cross over briefly and then continue east over to I-17 to resupply. The road got progressively busier but remained fast moving. I climbed briefly before beginning the quick descent into Oak Creek.
This section of road was really nice, and there were some great views of Oak Creek Canyon. The road twisted and turned downhill, dropping almost a thousand feet in three miles. This area was packed with people camping out. At the bottom of the hill, I emerged at Highway 89A. My next segment of trail was just a half a mile to the north. I cruised on the highway briefly and was soon turning off onto Forest Road 237. This 5 mile trail connects 89A and I-17 and seemed to be a great way to save some time. Off the highway, the road remained wide and smooth. I passed by a few different designated camping areas, which all appeared to be quite busy. The trail twisted and turned and soon entered into Fry Canyon where conditions rapidly changed. Now narrow & rocky, I crossed a creek bed and climbed out the other side. This section was not maintained for low-clearance vehicles.
The trail remained a mix of smooth sections and a few slower, rocky sections. I crossed the creek one more time, and began to climb out of the canyon on the other side. The climb was a bit rougher in places, but I didn't quite get to the point of putting it in 4-low. The change of terrain was nice. This had pretty much been the roughest driving off the trip so far but still wasn't anything crazy. I continued uphill as the road remained rocky for a while. It got progressively smoother, and at the 5 mile mark, I returned to dilapidated pavement. Following the road downhill, I soon found myself driving alongside I-17, just south of Flagstaff.
I pulled into the busy gas station and topped off the tank and cooler for the final time. I noticed a free air fill-up and since my air-compressor was temporarily down (due to a blown fuse), decided to play it safe and air-up. This would allow me to save my last fuse as an emergency backup if I really needed to use it. Unfortunately, I wasn't the only one with this idea and after waiting over half an hour, I finally got my turn to air up the tires. After checking my maps, I also decided a slight route modification was needed due to the extended stop. My planned route was supposed to take me back to dirt roads on the other side of I-17, and then head south to Mormon Lake. I figured since I was already at the highway and aired up, a quick cruise down to Munds Park and east from there would take me to the same exact point. This would save me a few miles but more importantly, buy me some time and allow me to continue on schedule. It was the last night of the trip, and I certainly didn't feel like setting up camp in the dark.
10 minutes later, I was in Munds Park. I continued east, past the golf courses and cabins and was soon back to dirt. It was about 1:30, and I felt confident I would be able to cover the 40 miles from here to my last camp at Apache Maid in the Stoneman Lake area. I stayed aired up for now, and headed east along the road towards Mormon Lake. Forest Road 240 remained smooth and easygoing. It was about 12 miles from here to Mormon Lake. The road passed along the edge of Casner Park and then made a sharp left and climbed. Up to this point, the drive had been busy, with lots of people camped out.
The trail continued to curve through the forest. The surface remained easy, but the trail did have a few short rocky sections and plenty of washboards. I know that I love talking about washboards, but they can be really annoying at times. From here, the road began a long uphill section. The forest was really thick in this area and I eventually crested the hill, topping out just over 7500 feet. This was the highest elevation of my entire trip. Almost immediately, the road soon dipped, dropping back downhill.
Twelve miles from Munds Park, the trees thinned, and I arrived at a paved road on the edge of Mormon Lake. I continued north to a scenic overlook. Mormon Lake is a twelve square mile natural basin surrounded by low hills. The lake bed was full of yellow and green grass. But there was one important thing missing -- any sign of water. Mormon Lake has the unique distinction of being Arizona's largest natural lake… sometimes. As far as I could see, this seasonal lake didn't feature any water. It appeared to be more marshland than anything else. Apparently, when full, it averages about 10 feet deep. Named for Mormon settlers who arrived in this area in 1878 and established a dairy, the lake today is really just a scenic stop for most. Some kind of animals -- either elk or deer -- were out grazing near the middle. I enjoyed the windy viewpoint and grabbed a quick snack before continuing south.
Now on my final pavement stretch, this road would take me about 15 miles south to Stoneman Lake. Along the way, I passed by the village of Mormon Lake, located on the shores and in the lake bed itself. With its own stores, lodge, airstrip, and RV park, this seemed to be a hive of activity. I continued south, following Lake Mary Road as it climbed through the forest.
Just after 3 o'clock, I was pulling off the paved road at Stoneman Lake Road. This would be my final dirt stretch as I drove to the lake and explored the area around Apache Maid Mountain for the rest of today and first half of tomorrow. Forest Road 213 headed west and remained very wide and smooth. The road was incredibly busy with everything from mini-vans being towed out to fellow Roof-Top tent enthusiasts. I was able to make good time as the road gently climbed and twisted through Coconino.
Six miles from the paved road, I pulled into the Stoneman Lake overlook. This lake is much smaller than Mormon Lake, but did appear to have at least a little bit of water. It didn't seem very deep and the surface was predominantly marshland. Located in a small basin, it is thought that the lake formed in the remains of a volcanic crater or sinkhole. It is very scenic, and numerous cabins line the northern and eastern shoreline. There were a few picnic tables and a bathroom, although the latter was currently closed. From the lake, I continued on the forest road as it headed west and soon descended.
The road turned south and eventually came across an intersection with the road out to I-17. I pushed further south towards Apache Maid Mountain which soon came into view. Apache Maid is quite literally a bump on the map. The former volcanic vent (one of several in the Mormon Volcanic Field) rises up out of the otherwise flat terrain surrounding it. The trail continued south, getting narrower in places. The surface was mostly smooth with a few areas of embedded rocks. The road came to a nice shady spot, and I was soon crossing the small bridge over Foster Canyon. After traveling through some grasslands, I stayed right to follow along the northern side of Apache Maid.
The road was incredibly scenic as it headed west. I passed another narrow bridge and a few nice camping spots. This was the area I was hoping to camp at, but I continued on briefly to see what was further down the trail. Slowly but surely, the road began to drop in elevation, and the conditions deteriorated. The road split and things were narrow as the rocky trail curved around Apache Maid. It was slower going, but really beautiful. The trail split again and turned to two track on the west side of the mountain. I parked and surveyed the area. I found some kind of stream gauge along one of the spurs as well as some more great views. From here, the red rocks of Sedona were visible once more to the west.
It certainly felt more remote on this side of Apache Maid. The roads were less traveled and it wasn't nearly as busy as Stoneman Lake. The vegetation also thinned out for the most part. The pine forest gave way to juniper bushes and grassland. I returned to the Jeep. It was now around 4:30. While this was a gorgeous area, I was hoping to find a camp with a little more cover. And I had passed one on the way in, that would work perfectly. I retraced my way back out through the scenic grasslands. The trail got progressively easier as it returned to well-traveled roads.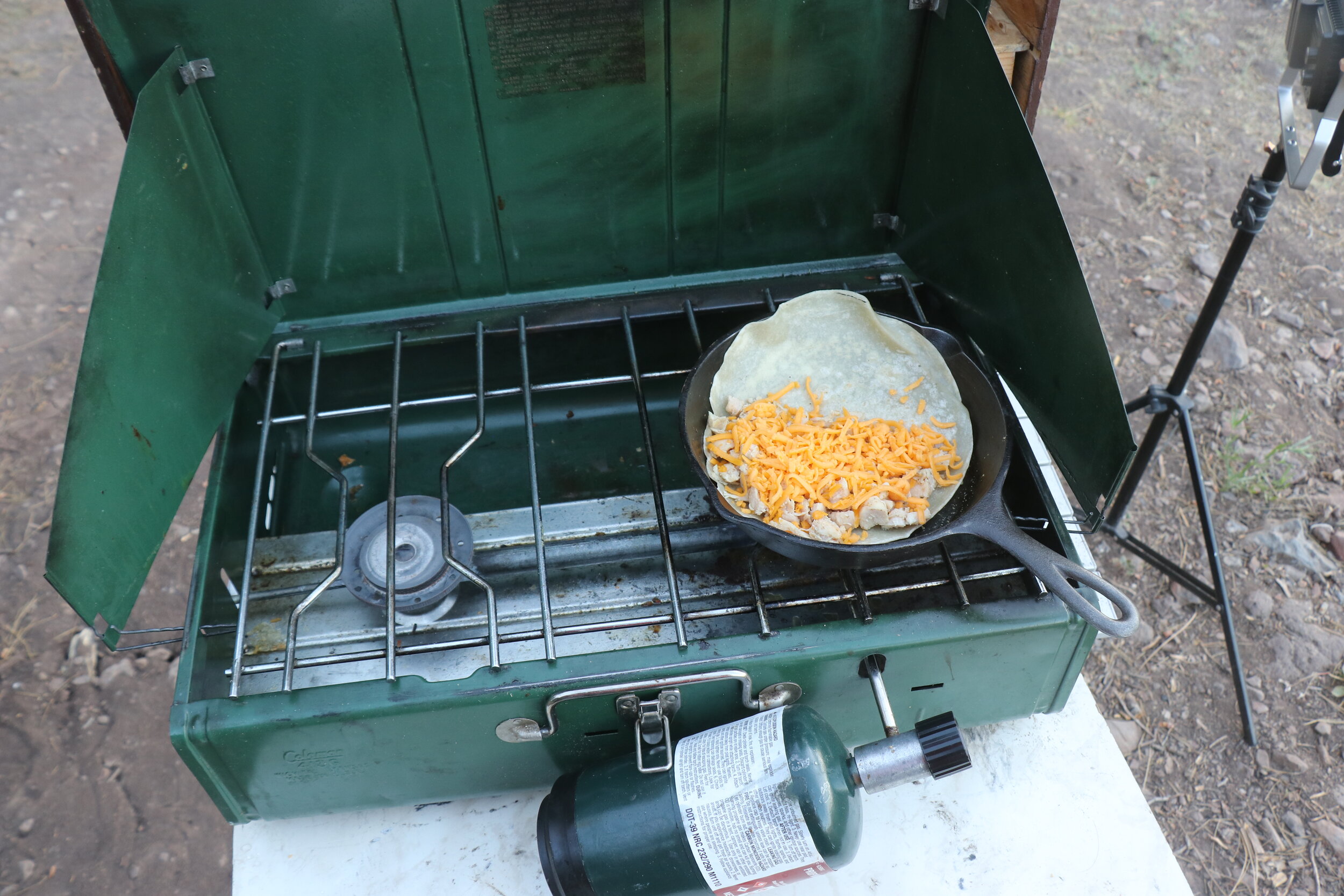 Just a mile from my last stop, I pulled off the main road and found camp. Located in a patch of trees and on a slight rise, I had an excellent view of the forest just north of me. This area was perfect for my last night, and was possibly even the best of the trip. I enjoyed the view for a minute before getting camp set up. Shortly after 5, I got to work. I leveled the Jeep and got the tent opened up one more time. Everything was soon set up, and I sat down to enjoy the first beer of the evening. Located at 6300 feet, the weather was cool with a light breeze. Some early-season monsoon clouds were building on the horizon, but they were no factor. The trees around camp provided the perfect amount of cover and Apache Maid Mountain rose up just south of me. It really was a perfect evening. Aside from the occasional traffic on the nearby road, things were exceptionally quiet.
It was nice relaxing and enjoying some more downtime around camp. After the sun sunk a little further in the sky, it was time for dinner. Tonight would be a repeat meal. The chicken quesadilla from night one of the trip was just too good to not do again. I repeated the process. First warming up the tortilla and then packing it with chicken and cheese. Things came together real quick. and I was soon sitting down to eat this deliciousness. I watched the last light of the day hit the trees. Just before 8 o'clock, the sun had finally set. Despite being the last night of the trip, I wasn't tired. I enjoyed a late evening at camp with a little more whiskey, and a whole lot of stars. It was about 10 when I got up in the tent, and hit the hay.
Day 5:
The following morning, I was up just before eight. The night had been fantastic and I ended up sleeping really hard. I enjoyed the view from the tent for a while. The San Francisco Peaks were just visible in the distance. After mustering up the motivation to get out of the tent, I soon set to work on breakfast. Today would be mopping up what was left in my cooler. I passed on the spam and got an overeasy egg and tortilla cooked. After a cup of coffee, I spent the next hour getting things cleaned. I got the dishes done and worked on packing up the tent and the back of the Jeep. I wasn't in a big rush today (since I only had a little more mileage to cover before getting on the highway home).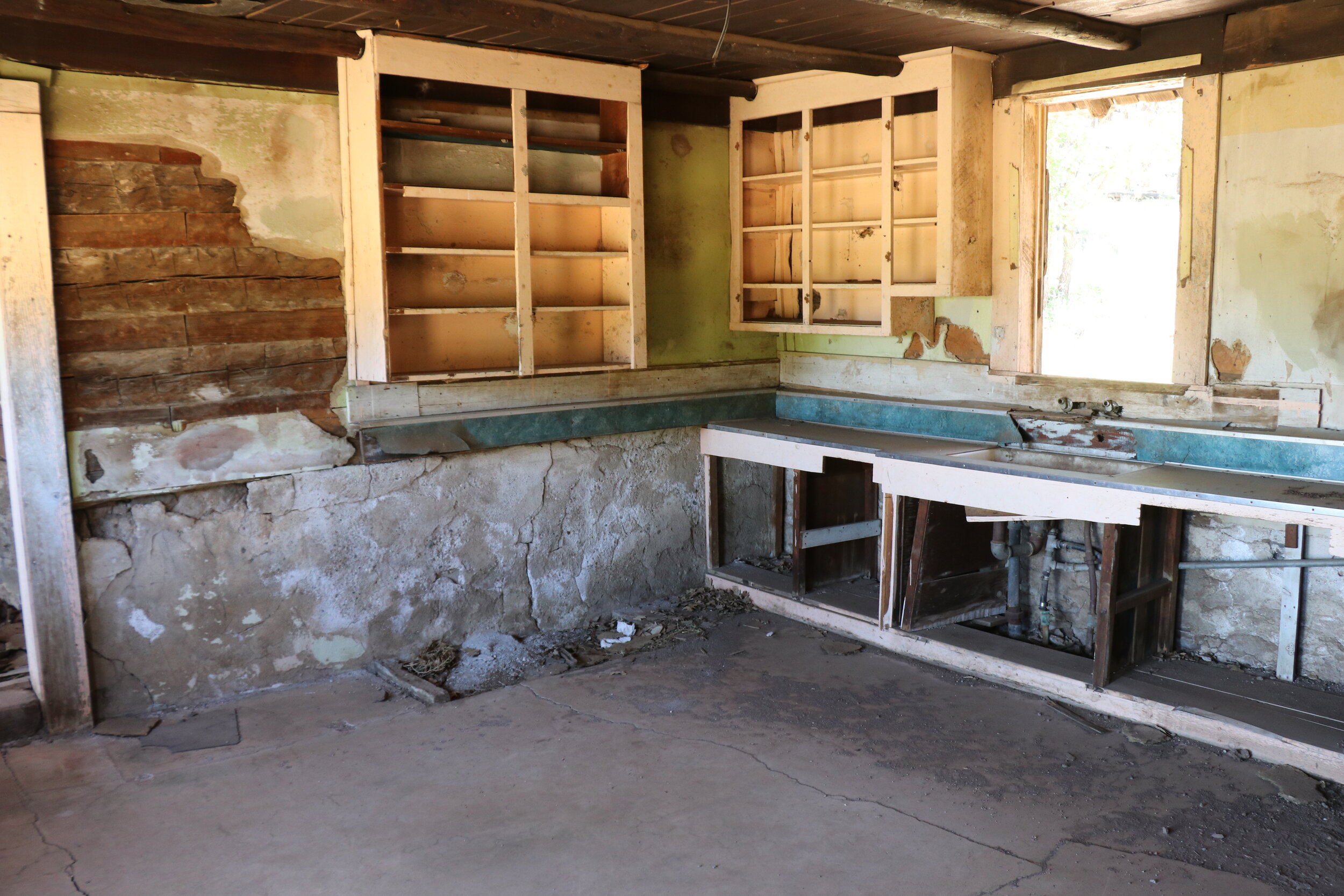 I got back on the trail and headed east. My last stop was just a ways down the trail near the base of Apache Maid. I continued south onto Forest Road 229 and things remained mostly easygoing. I passed some cattle and twisted through some more forest. After nearly missing my turnoff, I weaved along my final side trip. The road remains rutted out as it follows Rocky Gulch. At the end of the road, I arrived at my destination: a rather large homestead at the base of Apache Maid Mountain.
This is an area known colloquially as T-Bar Ranch. The multi-room structure that remains is impressive. I walked through the numerous rooms inside. The westernmost room featured floor tiles and a fireplace with mementos stacked on top of the mantle. There were some old pictures pinned to the wall. It seemed like this room was the original structure built on site. Substantial additions were eventually completed to expand the homestead. The building contained a slightly more modern kitchen, complete with sink, cabinets, and concrete flooring. A pantry and collapsed root cellar remained closest to the hill.
The back half of the cabin featured numerous additional rooms. With what appeared to be a hallway, there were three small rooms with wood flooring. A larger master suite sat at the end of the building. A nice porch wraps around most of the structure. The side porch is in decent shape but the front has seen better days. It's interesting to see the materials that were used to construct the building. Unfortunately, not much is known about the history behind this place. The original structure appears to be quite old, possibly built in the late 1800s. The rest of the additions are more modern and could date from the early to mid-1900s. The Babbitts built and operated a ranch out of a nearby building, but it is unclear if T-Bar was associated with it. Either way, it was a neat place, and the running cattle outside made it easy to imagine what life was like here back in the day.
The view out the front door was downright stunning. A meadow juts up to the base of Apache Maid Mountain. From here, the lookout tower was visible at the top. The tower, and summit of the mountain is accessible via a 2.5 mile trail that sharply climbs to the top. Depending on the time of year, the road can be gated near the summit and require a short hike. I have actually been up there a couple of times. And the view is certainly worth it if you've never been. Since I had been up there as recently as October, I figured this spot at the ranch was the perfect turnaround spot.
From here, I retraced my path back out to the main road. I continued north four miles back to Stoneman Lake Road. The drive was easy and I tried to savor every remaining minute of dirt. I eventually turned left and the dirt road gave way to pavement. I followed the road 8 miles west, as it dropped towards I-17, and the road home.

This trip had been phenomenal. The 250 miles from Bagdad to Apache Maid had featured a little bit of everything. From the grass covered mesas of the Santa Marias and the lush Verde Valley to the open expanses and scenic canyons of the Colorado Plateau, the incredible scenery was constantly changing. With stops at an abandoned mine, scenic cabin, and historic homestead -- there had been no shortage of places to explore. It was great to be able to cover some new trails and the combination of great campsites and perfect weather throughout my five days made it that much more enjoyable. It's been a while since I did a proper trip through Central & Northern Arizona, and I feel like this adventure did a great job of covering the wide variety this area offers. Thanks for reading along the journey and check out some of our other recent adventures at the bottom of the page!